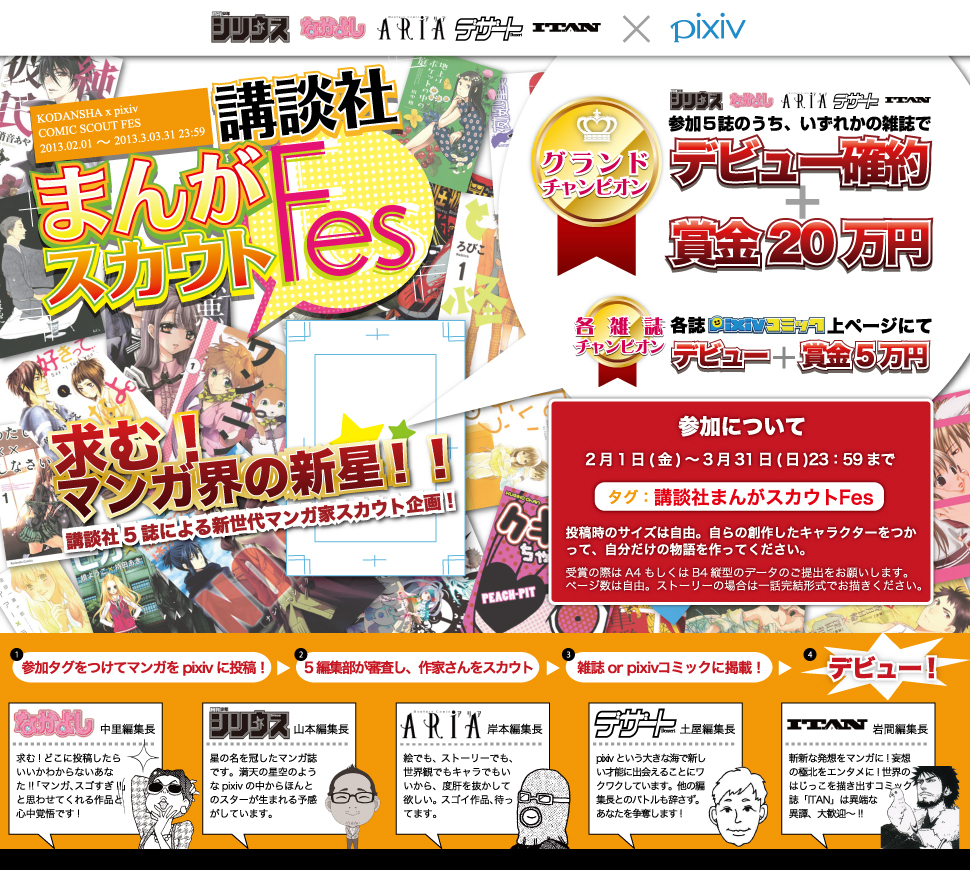 【Contest Period】
Friday, February 1st, 2013 to Sunday, March 31st, 2013 23:59 JST
【How to Enter】
(1)Draw a comic of any genre or size.
(2)Submit your comic with the Japanese tag below. Entries without this tag will be disqualified.
Tag:
講談社まんがスカウトFes
We'll only accept comics that follow the rules above.
【Submission Guidelines】
Recommended Web Size: You may upload it in any size.
Please only use characters and stories created by you.
・Submission Format: Please submit it using pixiv's manga submission function.
・Page count:The comic needs to be a complete story and can be any number of pages.
※The winner will be required to submit their comic in grayscale, at least 300 dpi, and in TIFF, PSD, or EPS.
Number of Submissions: You may submit more than 1 entry.
【Selection Process】
Submissions will undergo a strict judging process to select winners.
○Grand Champion (1 entry)
Your comic's debut in one of Kodansha's 5 magazines.
Grand Champion prize money of 200,000 yen
○Champion (1 entry per magazine, for a total of 5 winners)
Each magazine will have 1 winner debut their work on
pixiv comic's top page
Champion prize money of 50,000 yen
◆Project Outline (Japanese)
◆View Entries
◆Terms and Conditions (Japanese)
◆Kodansha Scout Manga Fes Official Website (Japanese)